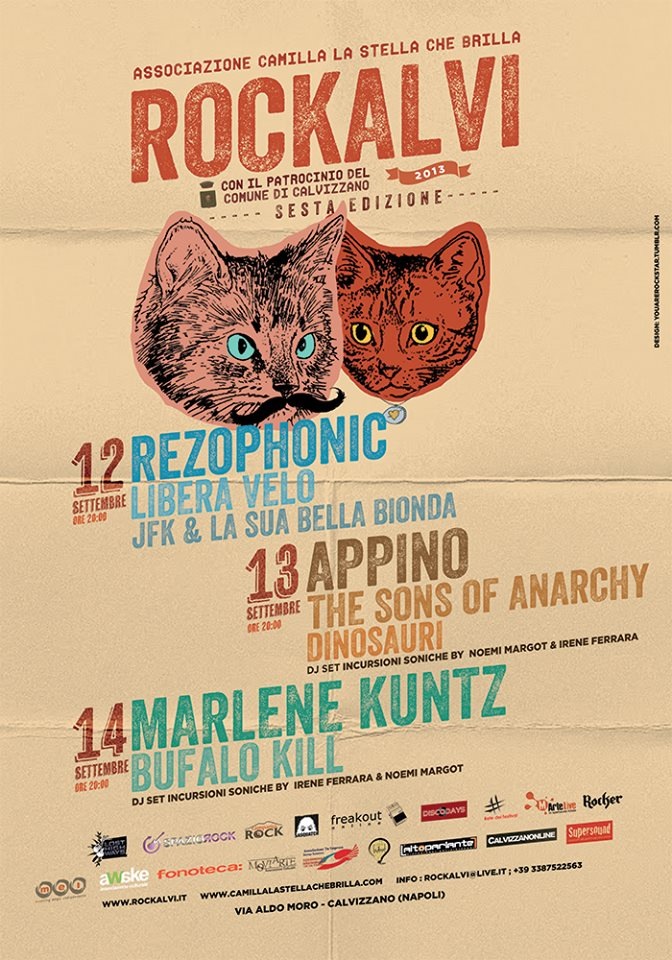 Comunicato Stampa
Con il patrocinio del Comune di Calvizzano
L'Associazione Camilla la Stella che Brilla ONLUS
presenta
Rockalvi Festival
VI Edizione
12-13-14 Settembre 2013
Via Aldo Moro (zona parcheggio)
Calvizzano (NA)
Ingresso con contributo
********
"Ogni minuto che passa è un'occasione per rivoluzionare tutto completamente…
Ti rivedrò in un'altra vita, quando saremo tutti e due gatti"
(Vanilla Sky, 2001)
Il Rockalvi Festival giunge alla sua VI edizione, con uno spirito di resistenza più forte che mai.
Non demorde, non rinuncia. Continua, rivoluziona, a proprio modo. Perché le cose possono cambiare. Perché c'è sempre un'occasione. Perché la solidarietà e la condivisione continuano ad essere i valori primari di un evento che guarda al territorio, a quell'area Nord di Napoli che deve e può avere le stesse occasioni di aggregazione di un qualsiasi centro cittadino.
Calvizzano, periferia? No, cuore che batte a suon di musica, per tre giorni che saranno la voce amplificata dell'associazione Camilla la stella che brilla Onlus.
Anche quest'anno si vuole fare di una storia (quella della piccola Camilla, affetta da Microcefalia con ipoplasia ponte cerebrale e sindrome di West) lo specchio di tantissime altre storie, perché sono numerosi i bambini colpiti da malattie rare che hanno diritto ad una migliore qualità della vita senza dover guardare necessariamente all'estero. Un progetto come Genitori Terapeutici parla chiaro a nome di un'associazione che è speranza e gioia per tante famiglie. La sede ufficiale è aperta dalla scorsa Pasqua e, grazie al 5xmille, ospita attrezzature fondamentali come il Crosystem. Si lavora duro, con impegno e dedizione.
Il Rockalvi vuole essere un megafono d'eccezione per lanciare lontano un messaggio di solidarietà che dovrebbe riguardare tutti. Un megafono in cui, negli anni, hanno urlato con vigore le voci di tanti artisti: 24 Grana, Almamegretta, Bud Spencer Blues Explosion, Amor Fou, Lombroso, Pier Paolo Capovilla, EPO, Marina Rei, Boosta, Giuliano Dottori, Plan de Fuga, JoyCut, Gnut, Foja, The Trick, e tanti altri ancora guidati dal grande capitano Alex Infascelli. Ciascuno nel nome della beneficenza, ridicendo o annullando il proprio cachet.
Il 12-13-14 Settembre torna il Rockalvi, un festival che è diventato un appuntamento imperdibile e attesissimo.
Come sempre, si alterneranno sul palco headliner di primo piano dell'indie nostrano: dai folli alfieri del progetto Rezophonic – interverranno Mario Riso, Pino Scotto, Max Zanotti (Deasonika), Sasha Torrisi (Timoria), Olly (The Fire), Alteria (Rock Tv), Ketty Passa (Radio Popolare – Toxic Tuna), Kg Man (Quartiere Coffee), Gianluca Battaglion (Movida), Luca Bologna (Black Beat Movement), Giovanni Frigo (Movida), Filippo Dallinferno (The Fire) – ad Appino (voce e penna degli Zen Circus), approdato all'esperienza solista con l'acclamato Il Testamento, opera prima che nasce dall'urgenza e dal bisogno di una liberazione fisiologica dal dolore. E poi… E poi gran finale per l'ultima serata con una band che ha fatto la storia del nostro rock, costruendo una carriera densa di successi e lezioni imprescindibili: i Marlene Kuntz la serata del 14 alzano il sipario sull'incendiario 3D3 TOUR.
Ma non è tutto. Avremo con noi: Libera Velo, The Sons Of Anarchy (band nata da due costole degli A Toys Orchestra), Bufalo Kill, JFK & La Sua Bella Bionda, Dinosauri.
L'ingresso prevederà un contributo di € 3,00 per ciasuna delle prime due serate e di € 5,00 per la terza.  I fondi raccolti durante il festival saranno devoluti in beneficenza all'Associazione Camilla la Stella che Brilla ONLUS.
PROGRAMMA
Start 20.30
*12 Settembre
Rezophonic
Libera Velo
JFK & La Sua Bella Bionda
*13 Settembre
Appino
The Sons Of Anarchy
Dinosauri
*14 Settembre
Marlene Kuntz
Bufalo Kill
**Attività ludiche dedicate ai bambini a cura dell'Associazione Culturale Moviarte
**Djset: Incursioni soniche di Noemi Margot e Irene Ferrara
Info & Contatti
Direzione artistica: Peppe Guarino
Grafica | © Nicola Mottola (youarerockstar.tumblr.com)
Sito Ufficiale | www.rockalvi.it
Twitter | twitter.com/rockalvi
Facebook | www.facebook.com/pages/Rockalvi-Festival
e-mail | rockalvi@live.it
www.camillalastellachebrilla.com
Mobile | 338 7522563 (Peppe Guarino)
Media Partners
LostHighways | www.losthighways.it
Spaziorock | www.spaziorock.it
Freak Out | www.freakout-online.com
Campania Rock | www.campaniarock.it
Rete dei Festival | www.retedeifestival.it
Marte Magazine | www.martemagazine.it
BulbArtWorks | www.bulbartworks.com
Calvizzanonline | www.calvizzanonline.org
Fonoteca | www.fonoteca.net
L'Altoparlante | www.laltoparlante.it
Moviarte | www.facebook.com/pages/Associazione-Culturale-Moviarte
Tu Impresa | www.tuimpresa.it
DiscoDays | www.discodays.it
Sasquash | www.facebook.com/pages/Sasquatch-produzioni
MEI | www.meiweb.it
Awake Music Event I www.facebook.com/awake.musicevent
Evento Facebook: QUI