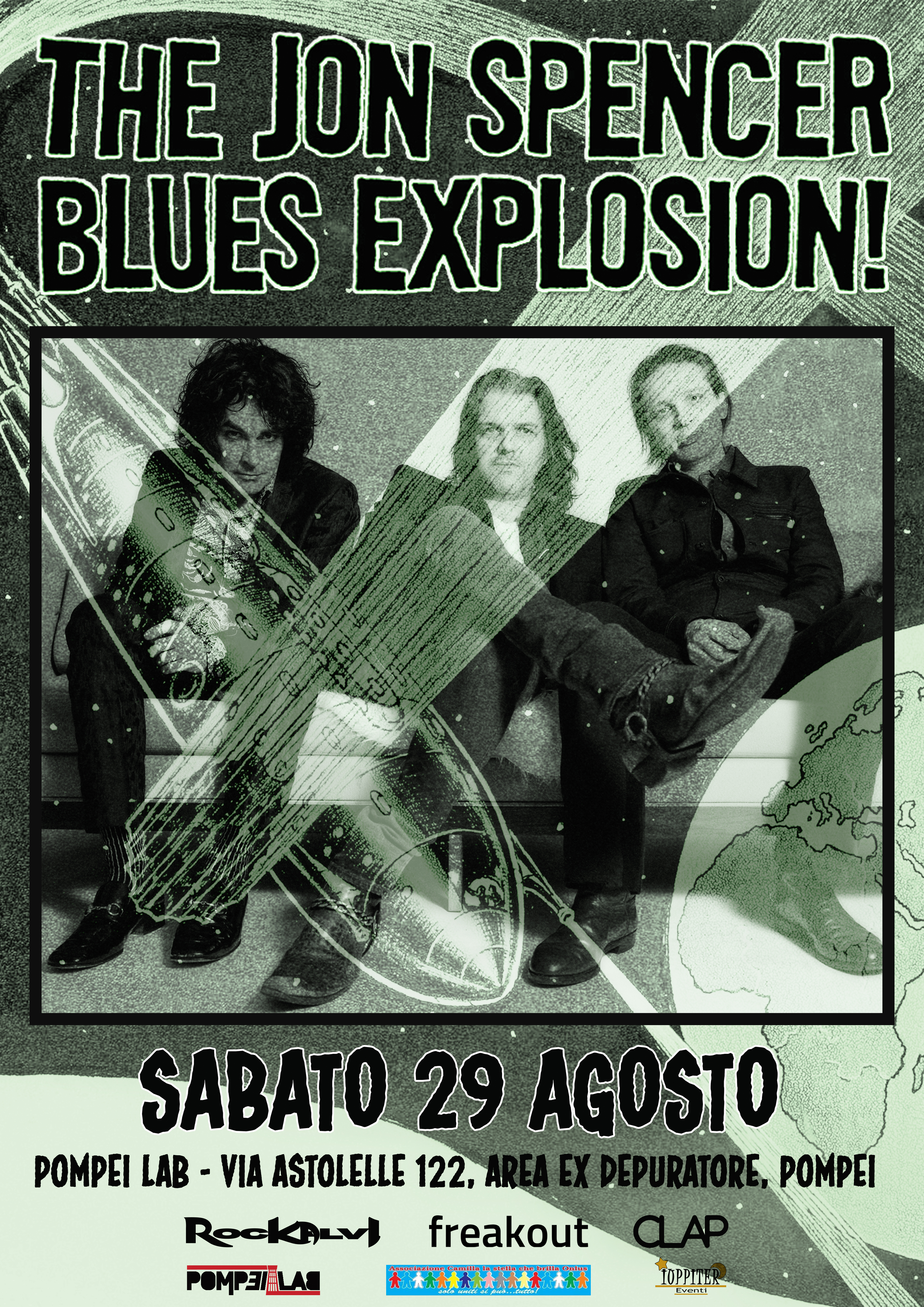 Rockalvi, la Musica che fa bene !!!
Il festival è promosso dall'associazione Camilla la Stella che Brilla ONLUS a sostegno dei bambini affetti da malattie rare.
www.camillalastellachebrilla.com
UNICA DATA CENTRO/SUD del TOUR ESTIVO ITALIANO
﹋﹋﹋﹋﹋﹋﹋﹋﹋﹋﹋﹋﹋﹋﹋﹋﹋﹋﹋﹋﹋﹋﹋﹋﹋﹋﹋﹋﹋﹋﹋
The Jon Spencer Blues Explosion  for Camilla la Stella che Brilla ONLUS
29 Agosto 2015  – Pompei (Na) – Pompei Lab – Rockalvi Festival – Freak Out Concerti – C.L.A.P. – Iuppiter Eventi
presentano il nuovo album 'Freedom Tower – No Wave Dance Party2015'
New York City è una megalopoli estremamente rumorosa, molti dei suoi artisti si sono proprio formati all'ombra di quello stesso rumore.
Il ritorno della Jon Spencer Blues Explosion è in pratica un morso feroce alla stessa cultura di strada della Big Apple, uno slancio vitale che prende il nome di 'Freedom Tower – No Wave Dance Party2015', un titolo che già denuncia i suoi intenti rivelando certo la fascinazione per una delle più discusse correnti del dopo-punk, ma anche per la disco mutante che ha animato le sale del Danceteria e dello Studio 54.
Tutti i personaggi di serie b che hanno animato il cinema di genere e definito le frontiere culturali della grande mela sono presenti nella narrazione: lo spaccone e la bambola di fiducia, il celebre cuoco, il poliziotto corrotto, gli artisti in sofferenza, 'the sucker MC' (come da slang locale), le prostitute dimenticate e la cenerentola alla sua ultima occasione. Una galleria vitale fatta di ritratti radicali, gli stessi omaggiati da Spencer/Bauer/Simins. Dall'inizio alla fine il disco ha un incedere nevrotico, è cucinato nella sporcizia e bagnato nella pioggia acida. E poi quelle rime montate su groove irresistibili, che del trio sono la specialità.
In tempi non sospetti la Blues Explosion aveva già flirtato con l'hip-hop, giusto in occasione di quei remix sperimentali che nel 2005 videro scendere in campo non solo Beck e Moby ma anche i due poco raccomandabili Wu-Tang Genius e Killah Priest.
Il rock'n'roll sotto le mentite spoglie del rhythm'n'blues, nei mille volti di un gruppo che da sempre si pone ai vertici stilistici dell'underground, fiero nel ribadire i suoi trascorsi garage-thrash (con i suoi Pussy Galore Spencer ha definito i contorni del noise, riportandolo al suo stato primordiale). Registrato presso i leggendari Daptone House Of Soul di Bushwick e mixato da un personaggio influente nel circuito hip-hop come Alap Momin (Dalek) in quel di Harlem, 'Freedom Tower' è uno dei più provocatori stati del pathos urbano. Ci sono milioni di storie nella città nuda, ma c'è una sola Blues Explosion!
La musica da protesta con cui danzare non è mai stata così ammaliante.
﹋﹋﹋﹋﹋﹋﹋﹋﹋﹋﹋﹋﹋﹋﹋﹋﹋﹋﹋﹋﹋﹋﹋﹋﹋﹋﹋﹋﹋﹋﹋﹋
Il Rockalvi Festival sta per giunge alla sua VIII edizione più forte che mai.
Quest'anno c'è stata una Chiamata d'Amore !!!
Si una vera Rivoluzione !!!
Iuppiter Eventi da Napoli , mentre Freakout , CLAP e PompeiLab da Pompei e dalla zona vesuviana hanno abbracciato l'associazione in totale passione.
A suon di Musica si vuole amplificare la Camilla la Stella che Brilla Onlus , quest'anno addirittura con un Anteprima di PRIMA Classe.
A voler sostenere la nostra causa non ha perso tempo la Blues Explosion capitanata da Jon Spencer !!!
Anche quest'anno si vuole fare di una storia (quella della piccola Camilla, affetta da Microcefalia con ipoplasia ponte cerebrale e sindrome di West) lo specchio di tantissime altre storie, perché sono numerosi i bambini colpiti da malattie rare che hanno diritto ad una migliore qualità della vita senza dover guardare necessariamente all'estero. Un progetto come Genitori Terapeutici parla chiaro a nome di un'associazione che è speranza e gioia per tante famiglie. La sede ufficiale è aperta a tutti e grazie al 5xmille, ospita attrezzature fondamentali come il Crosystem. Si lavora duro, con impegno e dedizione. Il Rockalvi vuole essere un megafono d'eccezione per lanciare lontano un messaggio di solidarietà che dovrebbe riguardare tutti.
Questo è il Codice Fiscale 95102320637 che potete usare nella prossima Dichiarazione dei Redditi per donare il vostro 5 x Mille alla nostra associazione.
www.camillalastellachebrilla.com
﹋﹋﹋﹋﹋﹋﹋﹋﹋﹋﹋﹋﹋﹋﹋﹋﹋﹋﹋﹋﹋﹋﹋﹋﹋﹋﹋﹋﹋﹋﹋﹋
IL 29 Agosto il Rockalvi si apre con un' anteprima internazionale per rafforzare l'identità di un Festival che è diventato un appuntamento attesissimo e imperdibile.
﹋﹋﹋﹋﹋﹋﹋﹋﹋﹋﹋﹋﹋﹋﹋﹋﹋﹋﹋﹋﹋﹋﹋﹋﹋﹋﹋﹋﹋﹋﹋﹋
Ingresso
– Prevedinta 12 Euro + d.p. su circuito ETES
– Botteghino 15 Euro.
http://www.etes.it/EventiController?az=EventiManager&subaz=getDesc&titolo=The%20Jon%20Spencer%20Blues%20Explosion%20-%20In%20Concerto&argomento=43&servizio=9&prodotto=40440
﹋﹋﹋﹋﹋﹋﹋﹋﹋﹋﹋﹋﹋﹋﹋﹋﹋﹋﹋﹋﹋﹋﹋﹋﹋﹋﹋﹋﹋﹋﹋﹋
Info & Contatti
Sito Ufficiale | www.rockalvi.it
Twitter | twitter.com/rockalvi
Facebook | www.facebook.com/pages/Rockalvi-Festival
e-mail | rockalvi@live.it
www.camillalastellachebrilla.com
Freak Out
info@freakout-online.com
http://www.freakoutmagazine.it/
Iuppiter Eventi
http://www.iuppiter.eu/eventi.asp
Pompei Lab
info@pompeilab.com
Clap Eventi
info.clapeventi@gmail.com